A Note from Pam:
At Fleur Cakes I place the highest priority on delicious taste with a beautiful presentation. All cakes are made from "scratch" with well-tested recipes. I never use mixes or pre-packaged fillings. I believe in keeping costs as reasonable as possible so that everyone can enjoy the luxury of delicious, well-made food. I take on a limited number of wedding cakes per season so that I can give special attention to each wedding. Working with the bridal couple, I hope to achieve the taste and style they desire for their most memorable occasion.
Presentation
White, scalloped-edged, disposable boards are used for cake presentation unless other arrangements are made.I have a limited supply of platters and boards available for cake presentation. Simple ribbon-edged boards are available for a refundable deposit of $25.00. Glass pedestal plates and other platters are available for a rental fee plus a refundable deposit. Plates provided by the bridal couple are always welcome and must be delivered to Fleur Cakes at least one week prior to the wedding date. Sheet cakes, pies, tarts and other desserts are provided on disposable ware unless other presentation arrangements are made.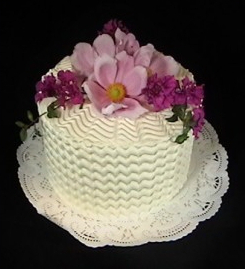 Samples
You may order a 6" cake in any flavor combination you wish to sample. This will serve 10-12 so parents or friends get to sample too! This is included in a wedding cake package and can be pre-ordered for any time. There is a $25 charge payable on receipt of the cake that will later be deducted from your wedding cake invoice. One 6" cake per wedding package. Additional 6" cake samples are $25 each. I'm sorry but I cannot give one serving samples.
A $100 non-refundable deposit will hold your event date on my schedule and will be applied to the cost of your desserts. One 6 inch sample cake or 9 inch pie is included free with a deposit. Please call or email for more information.
Wedding cake delivery is FREE
in the Hood River Valley!
Like Fleur Cakes on Facebook and follow the lastest updates!