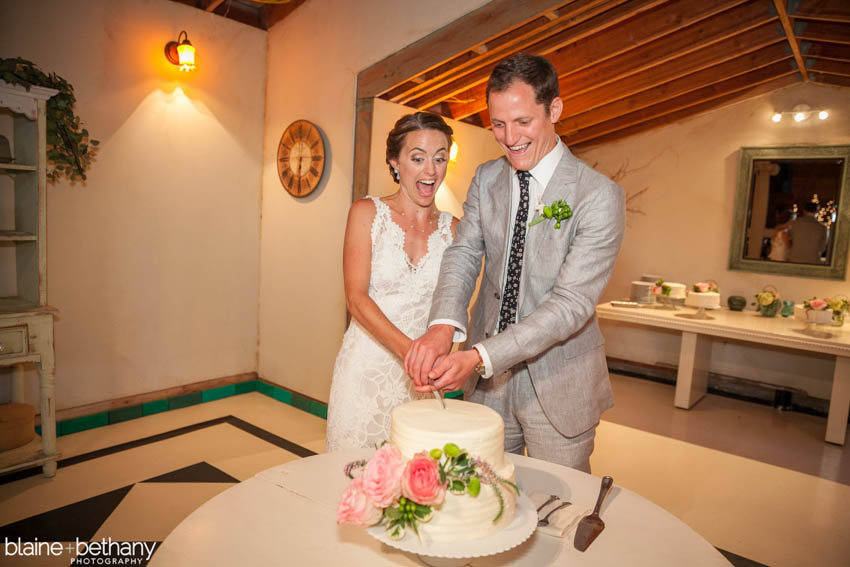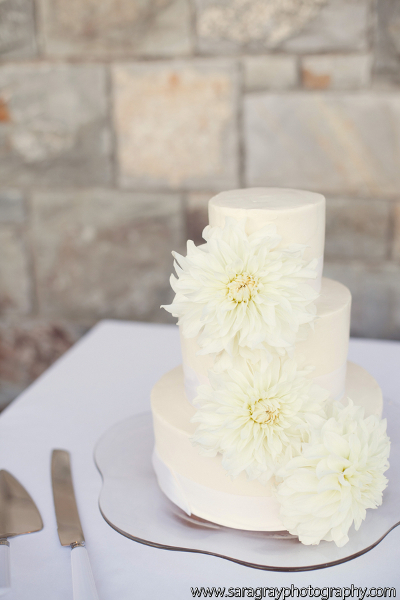 "We absolutely loved the cake, it was everything Briana & I hoped for, and absolutely delicious...which is more than I can say for most wedding cakes! I'll always refer you to anyone you asks me about cakes/ weddings!!"
Brenda (Mother of Bride)
Lemon Poppy Seed cake with Marion Berry filling and Sour Cream Fudge cake with Mocha Creme filling
"We LOVED the cake. Dave keeps saying he wants to have you make us another one, for no special occasion, just because it's just so delicious!"
Stacey (Bride)
Sour Cream Fudge cake with Mocha Creme filling
and Light Cream Icing
"We look forward to having your cake in the future!"
Michelle (a Bride who gets another cake every year for the wedding anniversary) Banana Cake with Chocolate Bavarian Creme filling and Sour Cream Fudge Cake with Mocha and Irish Cream Filling
"Thanks again for baking such a scrumptious wedding cake...
if any of my friends get married or throw any other celebration in the Hood River area,
I'll definitely refer them to you."
Chris and Tom (Bride and Groom)
Lemon Poppy Seed cake with Marionberry filling and Light Cream Icing
"The cake of phenomenal! The guests were asking for seconds and at the end
there was not one crumb left. I've never been to a wedding where all the cake was eaten. People were asking, 'who made the cake?'"
Katy (Bride) Vanilla cake with raspberry filling, carrot cake and German chocolate cake.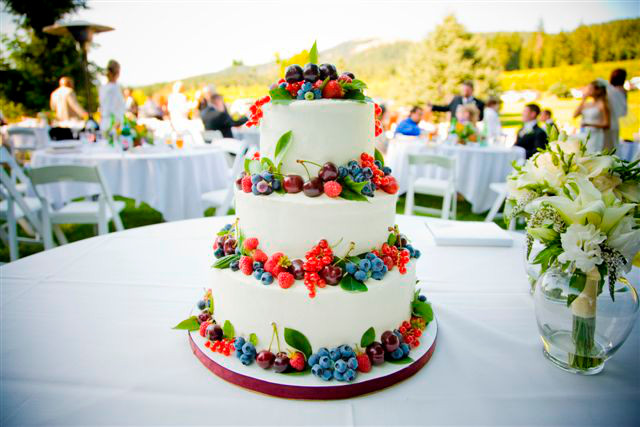 "Pamela, I just wanted to thank you again for your work with our wedding pies! They were amazing. We got so so many compliments on the presentation and taste, they were just incredible. There was not a single slice left when the sun came up on Sunday, and I definitely saw some late night snackers sharing some apple pie straight from the tin. You were a joy to work with, very professional, and easy to coordinate with. I would absolutely recommend you to anyone in need of wedding desserts in Hood River! "
Karissa, (bride) who provided her guests with a selection of pies including strawberry rhubarb, chocolate cream, garden pumpkin, Oregon marionberry and orchard apple.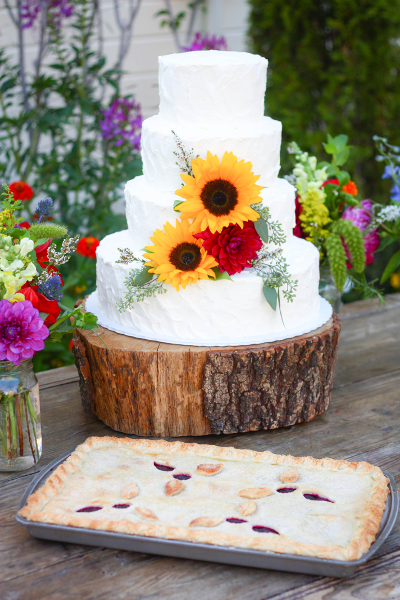 "People LOVED the pies- heard lots of comments about all, but so many enjoyed the peach-raspberry. You did a TERRIFIC job! Thank you-Thank you!"
Erika (Mother of the Bride)
Mt. Hood Blackberry Pies, Orchard Peach with Red Raspberry Pies, and Ginger Gold Apple Pies
"It was the most PERFECT hazelnut torte in the universe! You really made our day! Thank you! Thank you!"
M.J.H. Hazelnut Torte birthday cake.
"The wedding cake was amazing...so yummy!... I also wanted to tell you how incredible the Tiramisu was that you made for my bridal shower. Tiramisu is my most favorite sweet in the world and that was the best I have ever had."
Laura (Bride) Sour Cream Fudge cake with raspberry cream filling. Classic Tiramisu
"The cake was amazing! I thought it looked fantastic and tasted even better! Everyone raved about the chocolate fudge cake with cream cheese filling."
Tammy (Bride)
"Patti was super pleased with the cake, you did a great job! Thank-you so much! Before I knew it all the cupcakes and slices of cake were gone!"
Jenifer (Mother of the bride)
Vanilla cake with hazelnut cream filling and cupcakes with light cream icing.
"The slab pies were a great success. AND they were beautiful! Thank you so much for helping to make this party delicious. I never worry about anything that you make, it is all so good."
Karen
Summer berry slab pies for a graduation celebration
"Everyone loved your pies!!!! Scavengers were searching for leftover pie bites the next morning...good thing I hid a few to take home. Just took a bite of the lemon tart-- amazing! Everything you made was top notch. Thank you!!!" Sara (bride) A variety of fruit pies and lemon mascarpone tartlettes.
"On our one year anniversary yesterday we defrosted and dove into our cake topper. I'm happy to report it was as moist and tasty as it was on our wedding day! Thanks again for such a delicious and beautiful cake! " Amy (bride) Chocolate fudge cake with mocha cream filling.
"Thank you for the wonderful wedding cakes last weekend. I wish I could say that I sampled each and every flavor, but my guests beat me to it on most of them and ate every last bite. Much praise was given!" Allison (bride) Dessert buffet including cakes, cupcakes, pie, cheesecake and tarts.
Like Fleur Cakes on Facebook and follow the lastest updates!